Beekman Street Art Fair- Sunday June 13, 2021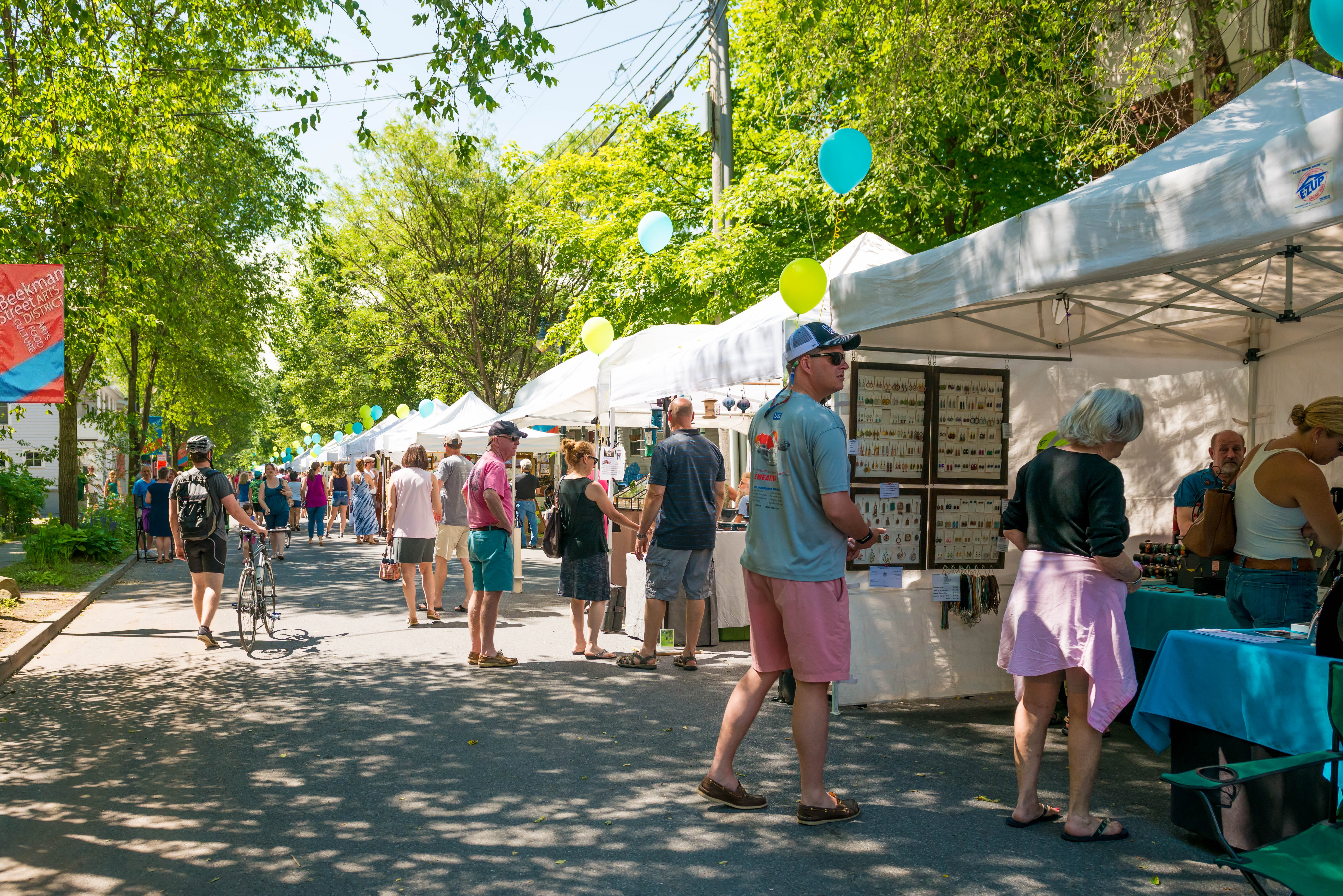 The 8th Annual Beekman Street Art Fair is tentatively scheduled for Sunday June 13, 2021 from 10am – 5pm. Our non-profit arts organization (SSADI) was awarded funds from the Saratoga Arts Community Art Grant program and the fair committee is currently working with the city to implement CDC guidelines for outdoor public events. There will be social distancing and mask requirements, ample signage with public safety reminders, and police officers on site. More info about the fair will be forthcoming as we move forward.
ARTIST INFORMATION
The Saratoga Springs Arts District, Inc, a 501(c)3 non-profit corporation, in collaboration with Saratoga Arts is inviting the artists who were invited in 2020 to re-register and pay their non-refundable booth fee for this year's fair scheduled to take place on Sunday June 13 from 10 AM till 5 PM. To maintain social distancing, we are placing booths 10′ apart so there will only be spaces for 40 artists, first come, first served. Regretfully, we have to limit booth assignments for NYS residents only to avoid issues with possible quarantine restrictions for interstate travel. This event serves as a kick-off to the summer season in Saratoga and is heavily promoted and marketed to a wide range of local and northeast-region art patrons.
If you are an artist who was accepted to participate in 2020, you are automatically invited to participate in 2021 without going through the jury process. Please register online and pay booth fee of $75. There are only 40 booth spots available this year so participation is on a first-come, first-served basis. Submit your non-refundable online payment using the "Accepted Applicants" button below.
Each exhibitor will be assigned a 10 x 10 space along the western side of Beekman Street. White display tents are strongly recommended in case of inclement weather and to keep the look of the show unified. Because of Covid restrictions, we are reducing the number of artists in order to maintain 10′ between booths. We are reducing food trucks and eliminating the performance tent, children's maker space, and music sets. These are all disappointing but important changes to ensure public safety. We hope to bring back the full-scale Beekman Street Art Fair next year so let's work together to make this one as successful as possible.
FOOD TRUCK INFORMATION- By Invitation Only
The Saratoga Springs Arts District will invite regional food trucks to participate in a one-day street fair on Beekman Street in the Saratoga Arts District on Sunday June 13th, 2021. This annual event is heavily promoted and marketed to a wide range of local and northeast-region art patrons.
Invited artists will be set up in individual tents along the west side of Beekman Street which is closed to traffic for this event. The food trucks will be set up along closed sections of Oak Street and Ash Street.
Food trucks will be selected by the fair committee and invited vendors will be assigned spaces ahead of time. The street will close to traffic at 8 am and re-open at 6 pm that evening. Each food vendor is required to provide trash and recyclables containers for customers and to remove containers at the end of the day. Please send copy of your Saratoga Springs-issued license along with your application. If you are not licensed in the city of Saratoga Springs, we will need copies of your DOH permit and proof of insurance, listing Saratoga Springs Arts District, Inc, and City of Saratoga Springs as additional insureds. Non-refundable fee of $85 may be paid online using the button below and then clicking on "Food Truck Fees." Insurance certificates and DOH permits can be sent by mail to SSADI, 143 Grand Ave, Saratoga Springs NY 12866 or sent by email attachment to artsonbeekman@gmail.com.
Questions, call 518-583-2129 or email artsonbeekman@gmail.com