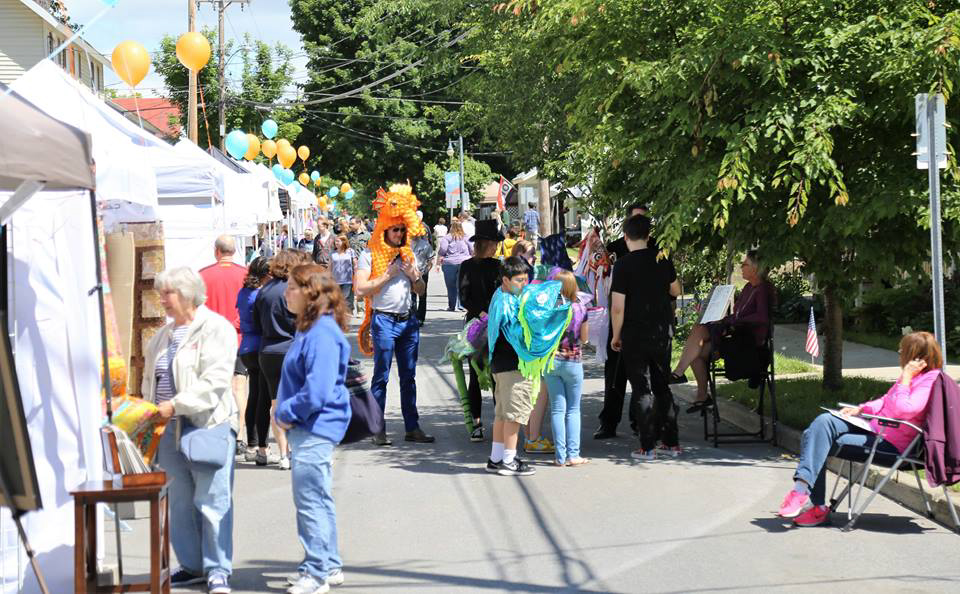 The Arts District on Beekman, Inc in collaboration with Saratoga Arts is seeking artists and artisans to participate in a one-day street fair on Beekman Street in the Saratoga Arts District on Sunday June 10th, 2018. This event serves as a kick-off to the summer season in Saratoga and is heavily promoted and marketed to a wide range of local and northeast-region art patrons.
Previous Exhibitors
In an effort to be fair and open up the event to the many new artists who wish to participate, we are re-jurying the entire fair starting in 2018. All previous and new exhibitors are asked to send 4 digital images to artsonbeekman@gmail.com by January 15- please include 3 shots of current work and 1 of your booth setup. The first round of jurying will happen in mid-January. Invitations to exhibit along with request for booth fees will be sent out immediately after the jury convenes. Booth fees will remain at $45 if submitted by Feb 15 with a $10 increase if submitted after Feb 15.
New Applicants
New applicants: Artists who have not exhibited with us before are asked to submit the application form along with 3 digital images of your current work and 1 image of your booth -by email to ArtsonBeekman@gmail.com with "BSAF 2018" on the subject line, or by CD to address below- to be juried by Jan 15. Accepted artists will be notified by email by Jan 30 with booth fee of $45 due by Feb 15. Booth fees will increase to $55 starting Feb 16.
Each exhibitor will be assigned a 10 x 10 space along the western side of Beekman Street. White display tents are strongly recommended in case of inclement weather and to keep the look of the show unified. This family-friendly event will also feature performances under the big tent on Ash and Beekman, roaming street performers, and specialty food trucks. Our previous events on Beekman have been very successful- artists report strong sales, knowledgeable patrons, and good follow-up sales and contacts. We are hoping to build on this event each year, making it the kick-off art event of the summer season in Saratoga. Thank you for your interest in being a part of it
Download the Application: BSAF 2018 artist application