Beekman Street Art Fair- Sunday June 11, 2023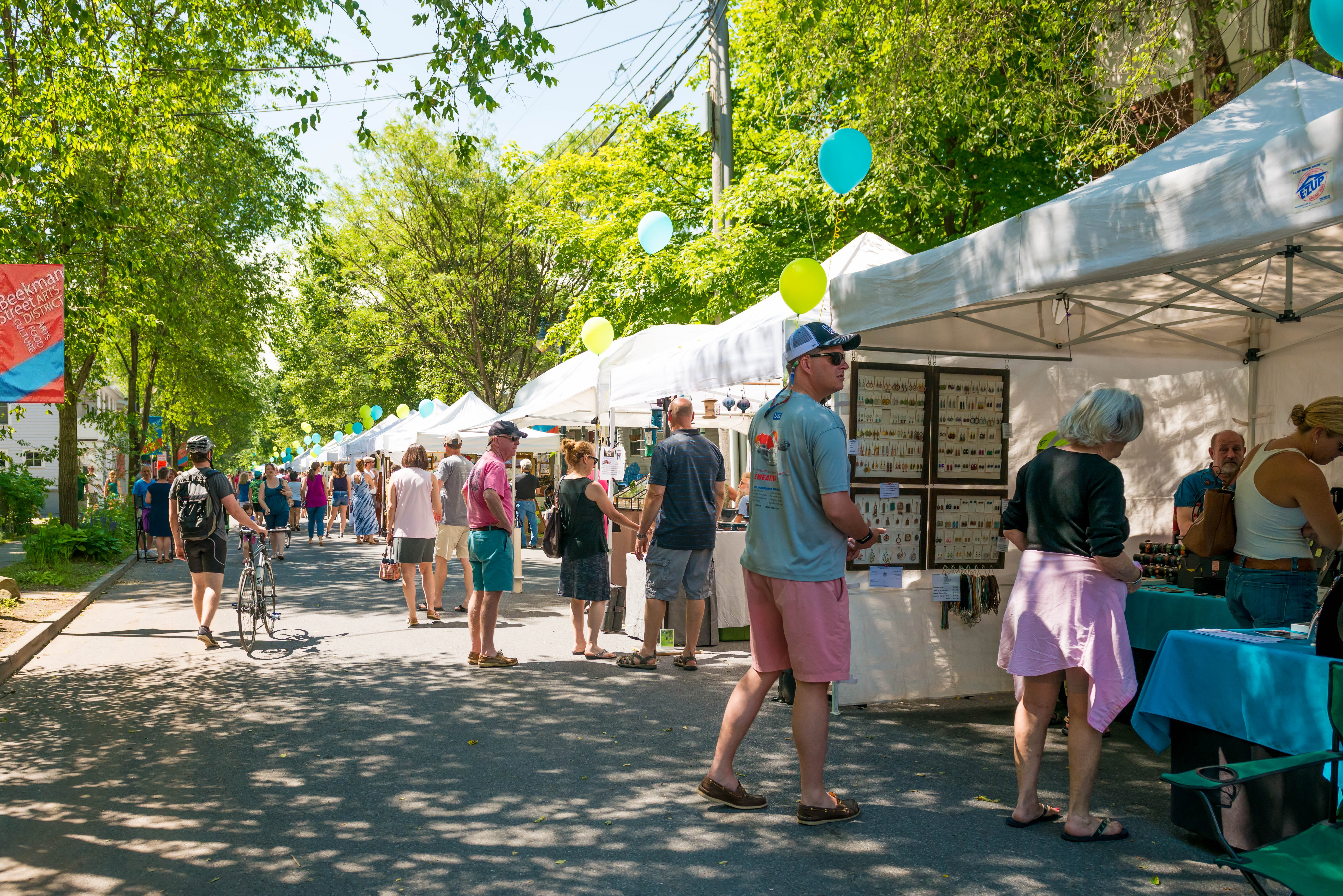 Thanks to all who exhibited, performed, cooked, attended, volunteered, purchased, donated, and frolicked with us at another successful Beekman Street Art Fair! We are grateful for you and your support. Come back soon to visit the shops and galleries in the Arts District. Hours vary but most open Tues-Sat 11 till 5.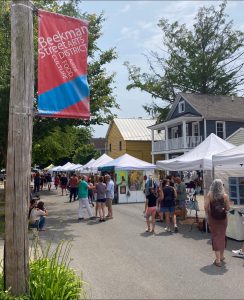 A one-day fun day Sunday on Beekman Street! Juried fine art and craft show, street performers, live music, and food trucks all in the Beekman Street Arts District, from Grand Ave to West Circular which will be closed to traffic. Held rain or shine, this event is family-friendly with free admission. Parking in the area is limited so biking, walking or skating is highly encouraged.
Produced by the Saratoga Springs Arts District, Inc, a 501(c)(3) nonprofit organization, with a generous Community Arts Grant from Saratoga Arts, our Beekman Street Art Fair will kick off summer in Saratoga Springs, NY on Sunday June 11, 2023, 10 am- 5 pm. Saratoga Arts made this program possible with a Community Arts Grant funded by the New York State Council on the Arts with the support of Governor Kathy Hochul and the New York State Legislature.
The fair committee is very pleased to be collaborating again this year with the Ballston Spa Community Band, who will be producing the musical entertainment portion of the fair. Please note, we'll be following current CDC and NYS guidelines for the health and safety of all our exhibitors, volunteers, and visitors.

Saratoga Arts

Adirondack Trust

County Waste & Recycling

Cudney's Cleaners

Ceramics
Janelle Beaulieu
Zoe Burghard
Rebecca Cigal
Sara Davis
Dawn Dishaw
Sarah Haze
Kim Lange
Michelle O'Hare
Melanie Taylor
Linda Barbadoro
Erinn Derby
Grace Gunning
Heather LaCoppola
Leonie Lacouette
Kim O'Rourke
Russell Palubniak
Tamara Rayne
Michael Whitney
Chick Magnet – Ash St.
Cooley's Ice Cream – Oak St.
Cousins Maine Lobster – W Circ.
Fresh Squeezed Lemonade – Ash st.
Holy Crepe – W Circ.
Mac Factor – Ash St
Smoothies on Wheels – Oak St.
Barbara Boughton
Sandra Catricala
Meg Dalton
Susan Hill
Lydia Hoffman
Joy Muller-McCoola
Susan Nagel
Dan Bridge
Lioubov Ermolova
Viola Gray
Jennifer Hoertz
Kathy Klompas
Vilma Mare
Allison Piracci
Dina Cuomo
Meryl Davis
Sarah Jordan
Stephen LeBlanc
Lori Lupe Pelish
Nancy Miller
Marysa Sacerdote
Meike Williams
2D Artists
Susan Beadle
Linda Biggers
Kasmira Demyan
Liz Droege
Frankie Flores
JuliAnn Goronkin
Brianna Guerra
Brian Hewitt
Ottavia Huang
Cathryn Hunt
Anping Liu
Eva Marie Loucks
Kristina Martin
Linda Peterson
Robin Rosenthal
Martha Starke
Tom Sullivan
Erika Sweet
David Tankersley
Gary Zack
Music Tent presented by Ballston Spa Community Band
Entertainment Tent tentative schedule:
11:00-11:45: Saratoga Springs Fiddle club
12:00-1:45: Ballston Spa Community Band.
2:00 – 3:15: Swing Docs Big Band.
3:30-4:45: Gadget
Seano from Circus Theatricks
Route Description
From Saratoga Casino Hotel: From Casino lot by Hotel out to Jefferson to Right Jefferson to Left Lincoln to Right Rt.9 in to Broadway to Left Washington to Left Beekman to Left on Congress to Right Broadway to Left Lincoln to Right Jefferson to Left into Casino lot.
Leaves Saratoga Casino Hotel every 1/2 hour
9:30am
10:00am
10:30am
11:00am
11:30am
12:00pm
12:30pm
1:00pm
1:30pm
2:00pm
2:30pm
3:00pm
3:30pm
4:00pm
4:30pm
5:00pm
Arrives Beekman St/ Grand Ave corner
9:40am
10:10am
10:40am
11:10am
11:40am
12:10pm
12:40pm
1:10pm
1:40pm
2:10pm
2:40pm
3:10pm
3:40pm
4:10pm
4:40pm
5:10pm
Arrives Saratoga Casino Hotel
9:50am
10:20am
10:50am
11:20am
11:50am
12:20pm
12:50pm
1:20pm
1:50pm
2:20pm
2:50pm
3:20pm
3:50pm
4:20pm
4:50pm
5:20pm
FOOD TRUCK INFORMATION- By Invitation Only
The Saratoga Springs Arts District will invite regional food trucks to participate in a one-day street fair on Beekman Street in the Saratoga Arts District on Sunday June 11th, 2023. This annual event is heavily promoted and marketed to a wide range of local and northeast-region art patrons. If you would like to be considered for the 2023 fair, please send your contact info and description of your food items to artsonbeekman@gmail.com
Invited artists will be set up in individual tents along the west side of Beekman Street which is closed to traffic for this event. The food trucks will be set up along closed sections of Oak Street and Ash Street. All spaces will be assigned ahead of time- vendors will be given map with assigned space before the event.
Food trucks will be selected by the fair committee and invited vendors will be assigned spaces ahead of time. The street will close to traffic at 8 am and re-open at 6 pm that evening. Each food vendor is required to provide trash and recyclables containers for customers and to remove containers at the end of the day. Please send copy of your Saratoga Springs-issued license along with your application. If you are not licensed in the city of Saratoga Springs, we will need copies of your DOH permit and proof of insurance, listing Saratoga Springs Arts District, Inc, and City of Saratoga Springs as additional insureds. Non-refundable fee of $85 may be paid online using the button below and then clicking on "Food Truck Fees." Insurance certificates and DOH permits can be sent by mail to SSADI, 143 Grand Ave, Saratoga Springs NY 12866 or sent by email attachment to artsonbeekman@gmail.com.
Questions, call 518-583-2129 or email artsonbeekman@gmail.com